| | |
| --- | --- |
| NEWS & EVENTS | Learn about our exciting events which include concerts, recitals, parent education as well as professional development offerings. Remember to check this page regularly. |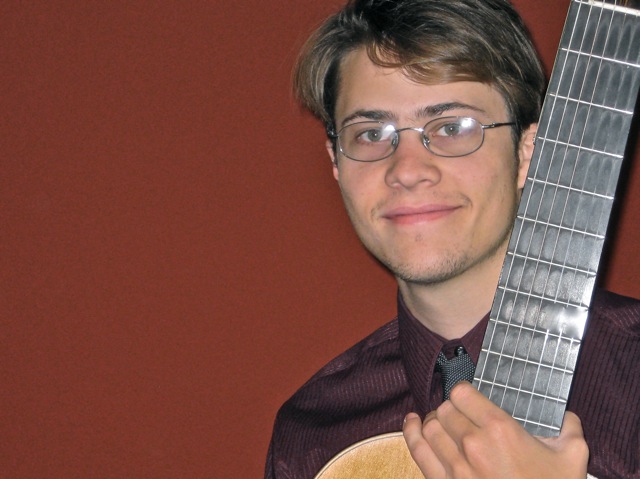 In order to meet the needs of our growing conservatory we are extremely pleased to invite Mason Fish as our newest member of the LCG faculty. Mason comes to us with impressive credential and recommendation.
Learn more about this extraordinary musician and teacher.
Advanced students performing at Omni Concert Series in San Francisco
The Longay Conservatory of Guitar Advanced Ensemble performed as an opening act for the Beijing Duo on Friday, December 3, 2010. The event took place in the Green Room of the War Memorial Opera House. A special thanks to Omni Concert artistic director, Richard Patterson, for extending this opportunity to our students.
Berta Rojas Workshop
Sunday, October 10, 2010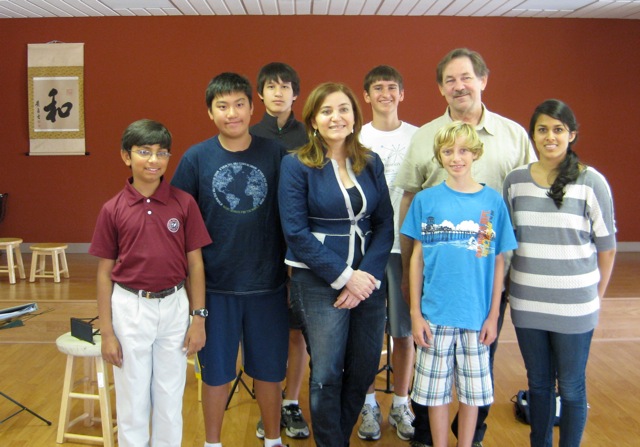 Berta Rojas, Adjunct Professor of Music at Columbian College, is an international performer and gifted artist. She brings to Columbian College an international reputation for artistry and performance excellence in the world of classical guitar.
Students and families of LCG were given a very special treat last Sunday, October 10th, as Ms. Rojas guided them through an exploration of their repertoire. She was especially adept at challenging the students to raise their musical sensitivity and dynamic expression in an extremely congenial and nurishing manner. Berta Rojas inspired our students to heightened musicianship with her enthusiastic and uplifting personality.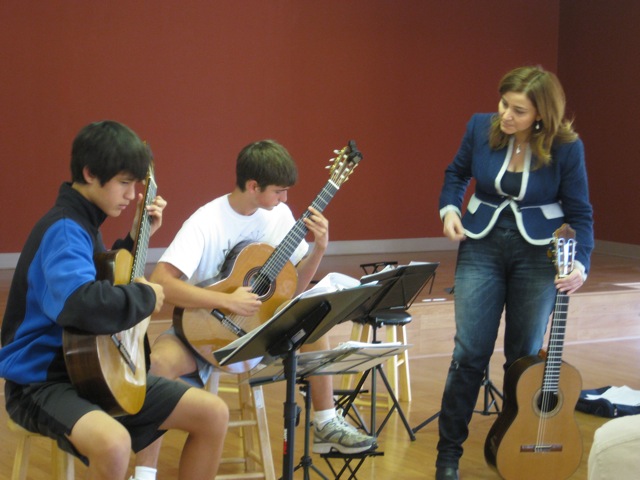 Rojas made her professional debut on the international stage in London at Southbank Centre in 1992. Performing would soon become a way of life for Rojas as her touring career took her to London, Salzburg, Vienna, Bonn, Rome, Budapest, Paris, Brussels, Taipei, Seoul, New York, Washington, Sao Paulo, Rio de Janeiro, Santiago de Chile, Caracas, Bogota, Montevideo and Buenos Aires.
Ms. Rojas began the day working with the advanced student ensemble repertoire. The afternoon was dedicated to a masterclass featuring the advanced students of LCG and was open to the public.
Other Bay Area engagements included her recital on Friday, October 8 at 7:30pm at Le Petit Trianon Theatre, San Jose and Master Class on Saturday, both sponsored by the South Bay Guitar Society. Learn more about Ms. Rojas on her website.
LCG Students Presented at GFA Convention
The Guitar Foundation of America, the preeminent organization for the classical guitar in the world, featured the Longay Conservatory of Guitar Advanced Ensemble, under the direction of Frank Longay, in the Youth Ensemble Showcase Concert held on June 26, 2010, during the annual GFA convention in Austin, Texas. Only one group was selected for each of the two categories of large and small ensemble. A duo from the Music Institute of Chicago was selected for the small ensemble.
The selection committee states that they had the largest number of applicants to date — submitting high quality performances. This is a tremendous accomplishment and honor for these fine young players who have earned our acknowledgement for their dedication and hard work.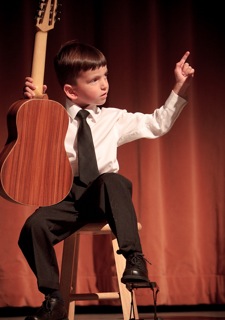 "All around the town..."
Annual Spring Concert — a tremendous success!
Our 23rd Annual Spring Concert took place on Sunday, May 23rd at 3:00 pm at the Santa Clara Convention Center Auditorium. Here is what one of our families has said about the event...
"I am sure you frequently hear thanks from parents and students for your leadership and excellence in holding high standards for education and also for keeping learning fun.
"I want to add one more such note to your many notes &ndash as Will was beaming today after such a great opportunity to share what he enjoys with others. This is a direct reflection of your dedication and ability to create a learning discipline that builds skills in steps that are achievable – and are consistent, and lead to fantastic music from your students.
"The concert was an amazing show. I look forward to many years of attending, while my family enjoys learning at LCG."
— WJ, Los Altos Hills
And another parent...
"We are always so proud of our kids and enjoyed the show very much. We especially enjoy the ensemble pieces. The little ones are so cute and adorable and it is a reminder of how far we've come and we always get a kick out of that the most."
— HW, Woodside
If you didn't make it to the concert this year, try to make it to our 24th in June of 2011! Admission is free.
endowed scholarship program
We are especially pleased to announce that, thanks to anonymous contributors to our endowed scholarship program, three, half–semester scholarship, are now available to deserving families.
We believe that dedicated families in need should not be denied a quality music education. Thanks to the generosity of contributors, we have implemented the means to help those who demonstrate a responsible commitment to their study. The LCG scholarship fund is available to families in need. Only students who demonstrate a consistently high level of dedication to the guitar and instruction are eligible.
Don't hesitate to learn more about enrollment possibilities or how you can contribute to helping deserving children realize their musical potential.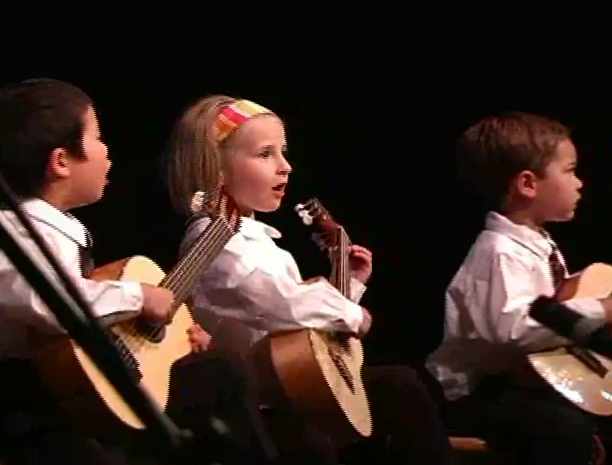 We are very pleased to be able to present to you a number of recently published streaming Quicktime™ video clips of special performances of our students. These clips include selections by Mauro Giuliani and J. S. Bach. Please enjoy! (High-speed internet access recommended.)
Frank Longay presented the Creative Learning Award
Article in American Suzuki Journal
At the Suzuki Association of the Americas' Teachers' Conference held in April 2006, Mr. Longay was a recipient of the prestigious "Creating Learning Community Award." The recipients were featured in the American Suzuki Journal publication. You can download a copy of the article about Mr. Longay's award.
For more information about the Creating Learning Community Award and the Suzuki Association of the Americas see their web-site at Suzuki Association of the Americas.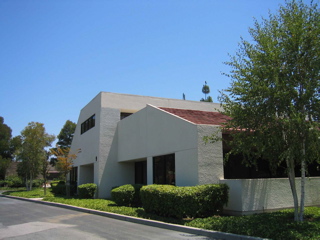 Longay Conservatory of Guitar
4701 Patrick Henry Bldg. 9, in Santa Clara.
Our conservatory is centrally located, in the heart of the Silicon Valley. Our building has been thoroughly remodeled to suit our growing needs. We are very excited about this incredible opportunity to provide expanded music education for all our families, as well as, be able to accommodate new families from Palo Alto, Mountain View, Fremont and other surrounding areas.
---
The success of the Suzuki Method relies heavily on thorough and organized professional development. Teacher Development is periodically offered at LGC and at locations throughout the US and abroad for those teachers who wish to pursue a career in the Suzuki approach as it applies to the guitar.
PARENT GUIDE, LCG SUPER READERS & ENSEMBLE ARRANGEMENTS...
The Longay Conservatory of Guitar is pleased to make available this new offering which is tried and tested here at the LCG.
---
Our staff is dedicated to bringing the very best music education to your child. Learn about the teachers' qualifications and accomplishments.
This page contains everything you need to know to contact our school. Please do not hesitate to contact us if you wish further information. We are looking forward to hearing from you!

---
A LONGAY CONSERVATORY OF GUITAR DOCUMENT
LAST SITE REVISION : JUNE 14, 2013
title bar picture courtesy Stephan Hoerold
©1998–2010 Frank Longay
All material at this Web Site is copyrighted.
Duplication of any part of this material, in any form, is strictly forbidden. Web-site linking upon permission only.
All rights reserved.