OUR FACILITY
LONGAY CONSERVATORY OF GUITAR DOCUMENT: MARCH 25, 2010
AN ENVIRONMENT FOR NURTURING THE HEART
The acquisition of our building represents the realization of Mr. Longay's dream of over twenty five years. It arises out of the desire to create a spacious, modern and beautiful environment suited to the extraordinary music and ideals we strive to realize.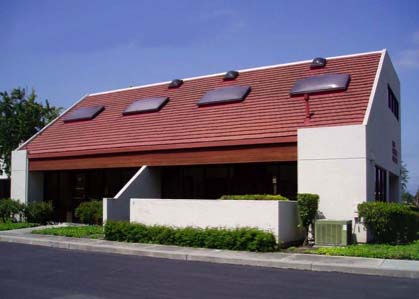 Our facility is centrally located in the heart of the Silicon Valley, at 4701 Patrick Henry Bldg. 9, in Santa Clara. The building has been remodeled to suit our growing needs. We are very excited about this incredible opportunity to provide expanded music education for all our families, as well as, be able to accomodate new families from Palo Alto, Mountain View, Fremont and other surrounding areas.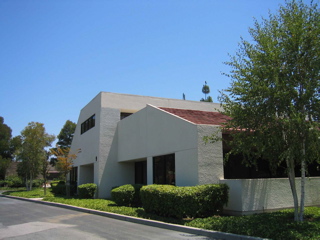 In addition, our spacious facility enables us room for more appropriate master classes, parent education events as well as teacher development workshops.We have created a little photo tour of the interior of the new site. We hope you enjoy it.
---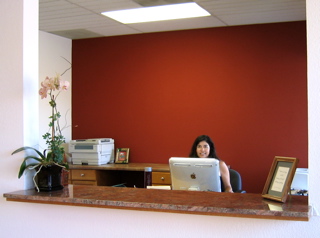 service desk
Ms. Buller at our friendly new service desk.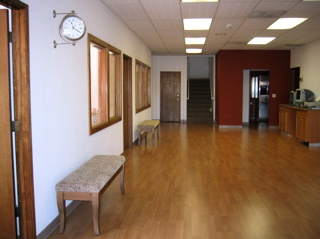 entry way
As well as being the greeting and waiting area for the school, the entry way serves as a reception area for recitals and other events.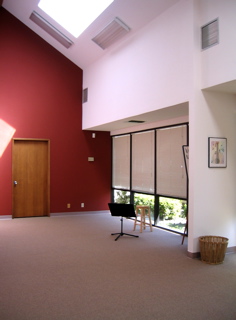 studio b
Three of our studios feature vaulted ceilings and skylights. The sound is fantastic! They are now large enough to facilitate group classes.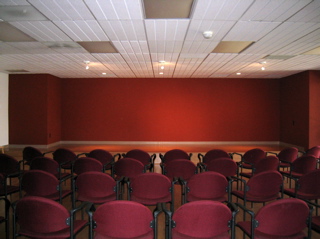 recital hall
We now have an 1800 square foot auditorium with built in stage and lighting. This is an especially elegant setting for beautiful music.
our future plans include...
The construction of an additional studio with a media center as a tool in further deepening our students music education.
A bank of Apple computers to augment our music theory and music skills program.
Audio visual equipment to enhance presentations and instruction.
The construction of classrooms in our upstairs space.
This exciting development in the growth of our school makes the Conservatory a one-of-a-kind music educational institute dedicated exclusively to a broad education in the study of classical guitar. We hope to make our school the finest found anywhere in the world. It is our goal that it serves as a model for other teachers in bringing only the best music education to their communities and the world.
If you would like more specific information about our program, please feel free to call us at (408)343-0933.

---
©2005 Frank Longay
All material at this Web Site is copyrighted.
Duplication of any part of this material, in any form, is strictly forbidden.
All rights reserved.