Note : Viewing these clips requires Quicktime Player version 7.x which is available for Mac and PC as a free download.

student performances
Streaming Video from the LCG Archive
LONGAY CONSERVATORY OF GUITAR DOCUMENT : DECEMBER 24, 2010
The following links will open streaming video from LCG concerts, recitals or other events. These clips are best viewed with high speed internet connection.
This page will be updated with new performances as they occur. Be sure to check it regularly.
---
New video...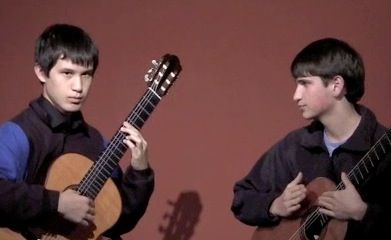 jongo | paolo bellinati
Based on the afro–Brazilian style, jongo,
this composition is one of the most important pieces of Bellinati's repertoire. He has arranged many versions of the piece. The two–guitar version was written in 1989 dedicated to the great duo, the Assad Brothers, who played the piece in concert for many years.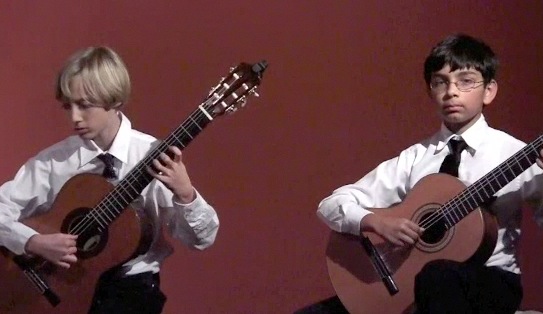 i. vivace | johann sebastian bach
from the concerto for two violins and continuo
This is a transcription by Frank Longay of the Vivace from the famous Concerto for two Violins in D minor by Johann Sebastian Bach. It demonstrates the tremendous versatility of the guitar.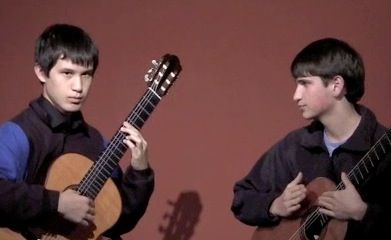 a duet from the "Tango Suite"
This great piece was origionally written for the Assad brothers by Piazzolla himself.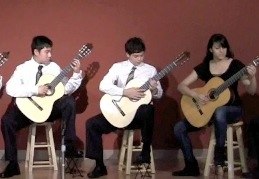 an ensemble video performance from December, 2010
Lecuona's talent for composition has influenced the Latin American world in a way quite similar to George Gershwin in the United States, in his case raising Cuban music to classical status. This arrangement of the famous and popular piece was created by Frank Longay and is available for purchase. (Used by permission.)
Nearly all began their study of the guitar when they were 3 years old.
---
previous video...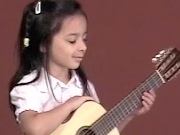 This four–year–old demonstrates a stable but relaxed posture and technique as well as focus and concentration. With the help of her mother's patient, knowlegeable and loving guidance, Maya successfully began her study of the guitar at three years.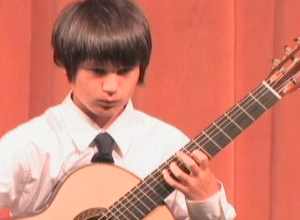 leyenda | isaac albéniz
a solo performance may, 2009
This is a solo performance from our 2009 spring concert. This performer is 12 years old and began his study of the guitar when he was 3 years old. He is playing a Kenny Hill, Signature model guitar.
Originally written for piano in G minor, it was first published in Barcelona in 1892 as the opening "Preludio" of a three-movement set entitled Chants d' Espagne. Many have attributed the first transcription for guitar to Francisco Tarrega who put it in its most recognizable key, E minor, and subsequently was made popular by Andres Segovia.
This arrangement is from Book 9 of the Suzuki Guitar School™. (Used by permission.)
ciranda and frêvo | Celso Machado
(from danças populares brasileiras)
an ensemble performance on MAY, 2009
These are beautiful ensemble piece of music by the Brazilian composer, Celso Machado.
More information about this piece and other extraordinary music by the composer is available from his website at www.celsomachado.com. (Used by Permission)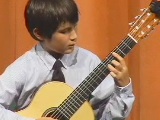 a solo video performance july, 2008
This is a selection from the famouse Lute Suite originally in G minor. It was performed at the Showcase Concert as part of the International Suzuki Guitar Festival held in Santa Clara California in July of 2008.
an exclusive student performance of august 8, 2007
Here is an arrangement, for two guitars, of the famous and beautiful piece by Debussy.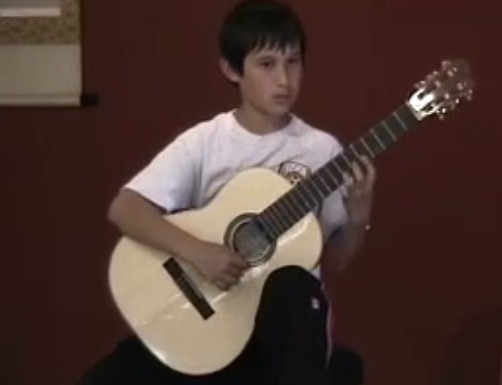 allegro | antonio vivaldi
a video performance on march, 2007
This is a special performance of the famous concerto arranged here by Frank Longay for three guitars with soloist.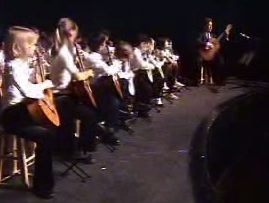 from the spring 2004 concert
Our annual Spring Concert is among the many performance opportunities offered by our school. It features individual soloists, smaller group and ensembles as well as featuring the entire program of Suzuki Students in mass. This brief clip presents "May Song," the fifth song in the Suzuki Guitar School&trade literature. (Used by Permission)
a special video performance december 1, 2006
This wonderful romantic piece is from Book 5 of the Suzuki Guitar School&trade literature. (Used by Permission)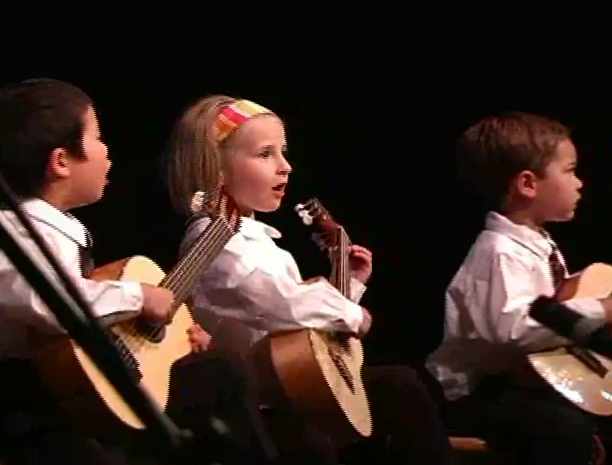 "pre-twinklers" from the spring 2005 concert
This adaptation of this favorite tune was created by Mr. Longay for instilling proper guitar technique and posture.
More information?
If you would like more specific information about future events or our program in general, please feel free to call us at (408)343-0933.

---
© 2004 Frank Longay
All material at this Web Site is copyrighted.
Duplication of any part of this material, in any form, is strictly forbidden.
All rights reserved.