lcg parent guide version 9.x
by Frank Longay
LONGAY CONSERVATORY OF GUITAR DOCUMENT : UPDATED AUGUST 10, 2009
One of the ingredients for the success of the Suzuki approach is the emphasis on parent education. Each child's musical journey is strongly supported by a knowledgeable and loving "home teacher" who is well prepared by a well trained Suzuki Teacher to guide the child through the challenge of learning the instrument.
The LCG Parent Guide is designed to be offered to parents in a 10 to 12 week parent education program and provides a logical and thorough introduction to the Suzuki approach as it applies to the guitar. Of the many improvements, this version includes an extremely detailed guided process for introducing Twinkle, Twinkle Little Star variations.
The topics include: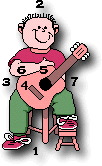 The value of a music education for all children
Suzuki philosophy
The roles of the teacher, parent & child
Practical needs such as caring for nails and selecting a guitar
New, detailed process for introducing Twinkle
Successful home practice
Keeping motivation alive
The importance of review
Suggestions for games and fun activities
The importance of group class
Support for the young performer
Sight reading for the home teacher
The small print...
To receive the Parents Guide you must have successfully completed the Suzuki Foundation Course, Unit 1 or similar international representation.
We are happy to learn about your experience with the Parents Guide or your comments or suggestions. Feel free to contact us by phone at (408) 343–0933.
---
how to order
Order the LCG Parent Guide using PayPal from our web–site or download an LCG Order Form in pdf which can be printed from your computer and mailed with your payment directly to the Longay Conservatory of Guitar. (Requires Acrobat Reader or similar program)
more information?
If you would like more specific information about this offering or our program in general, please feel free to call us at (408)343–0933.

---
© 2003–2010 Frank Longay
All material at this Web Site is copyrighted.
Duplication of any part of this material, in any form, is strictly forbidden.
All rights reserved.